부산행: 감천문화마을 Gamcheon Culture Village
I was in Busan for the National holidays here. I had a friend visiting Korea from Hong Kong and we decided to make the most of the few days off and go down south to catch some sun and dip our feet in the sea. The temperature was in the early 20's and deemed too cold for swimming in Busan apparently. It did get pretty cold at night to be fair but being from England we weren't quite convinced by Korea's interpretation of the word cold in May.
Busan is a very big city and although I have been there before there were many places I had not seen yet. We made it our plan to try and tick a few places off our list that were a bit more out of the way. One of our first stops was Gamcheon Culture village.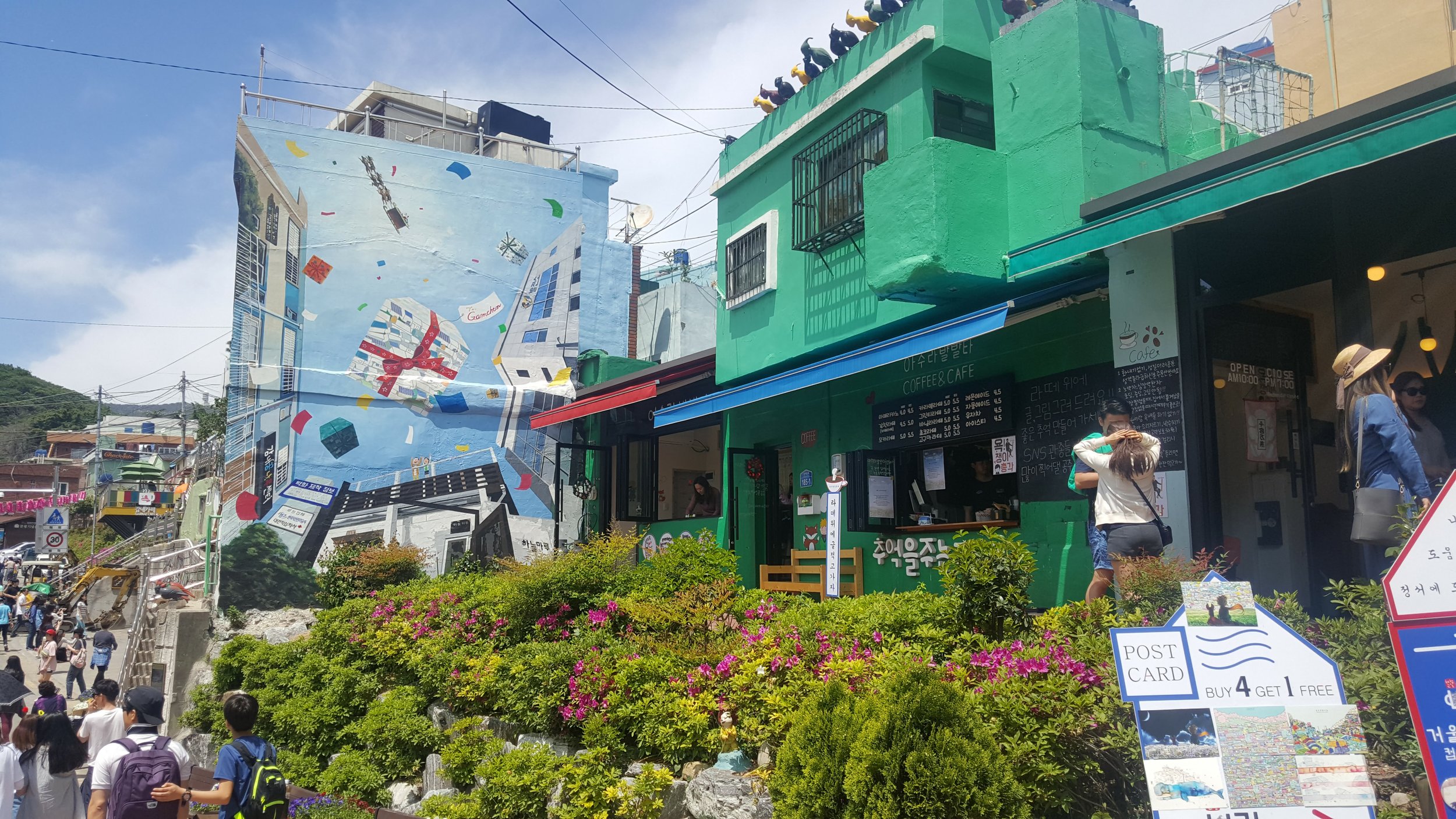 Busan is called many things, the Santorini of Asia, Gamcheon is considered the Machu Picchu of Busan etc. honestly I think it's detrimental to always compare places in Asia to something western just so we can understand it. It takes away from a place's cultural significance to that country. Well maybe it's because I don't get other country vibes here, I just think these places radiate Koreanness.
Gamcheon itself is a residential village located on a coastal mountain. You can feel the slight altitude change as you ride the bus into the village. The village has lots of cafes, galleries and workshops, there is even a museum there. The village is decorated with murals which cover nearly all of the walls and staircases. It is really interesting to look at. There wasn't much literature about it because as I understand it has only been restored fairly recently and the murals are one of the newer tourist attractions.
Being a Korean tourist destination it was way busier than we had expected but no less a very nice place to have a walk around, grab an ice cream and take some photos.
Take Busan's subway line 1 to Geojeong and come out at exit 6. Straight up the road you can find a bus stop for the bus numbers 1 and 1-1 to Gamcheon. It's one of the final stops and everyone will be getting off so it's pretty easy to find. You will also notice the murals on the streets leading into the village.
Gamcheon is a lovely alternative to your typical beach day in Haeundae or Gwanganli.